NEW PHOTO RESINS FOR RAPID PROTOTYPINGBY Ar UV LASER

TAMURA, Yorikazu and HAGIWARA, Tsuneo*,

SOLIFORM Photo Resin R&D Department, TEIJIN SEIKI Co., Ltd.

KSP D4F, Sakado, Takatsu-ku, Kawasaki, Kanagawa 213, JAPAN

Phone: +81-44-813-8700, Fax: +81-44-819-3218
---

Introduction
Main purpose of the stereolithography is to get a verification model from 3D CAD data by using liquid photopolymer. We have been spending a lot of efforts on creating a new use of the product in order to expand this technology. As the result, we have already developed a new root to obtain direct injection molding die by filled liquid photopolymers, TSR-750 series in 1995. We are greatly succeeded in the new technology for rapid prototyping. In this paper we present new type of urethane acrylate photo resins for Ar ion laser to give a model with high performance or function.

1. Background
The epoxy based photo resin for stereolithography is believed to give a model with high accuracy. However from the view point of material source, epoxy compound is limited. On the other hand, new urethane acrylates are easily available by the reaction of isocyanate with polyol. We focused on our efforts to develop the new urethane acrylates for new resins with high performance and functional properties, such as heat-stability, impact strength, tensile strength, elongation and etc.

2. Transparent and highly heat-stable resin, TSR-920
The properties of the hardened conventional resin does not have enough properties and is not reached to that of ABS resin. The users are anxious to have a resin with a high performance for functional test or practical parts, even if it is not satisfied with all items listed in. We have been investigated in the materials having clear color and high HDT, and developed TSR-920 photo resin. The hardened resin shows a high heat distortion temperature of 150 °C under high load, and more than 7 kg/mm2 for tensile strength. It is very useful not only for the verification model but also for the mechanical parts. TSR-920 shows unsatisfied property on some items, we have great expectation in future advance. This will become one of the important engineering plastic by stereolithography and be used for wide range rials of manufacturing.
TSR-1910 is consisted of newly synthesized functional urethane acrylates with acrylate monomers. A concept adopted for the functional urethane acrylate is to introduce a number of segments to give high heat stability. The physical properties are shown in the Table I.

3. Soft and rubber like resin TSR-1920s
It is well known that a great number of rubber or elastomer parts are produced as industrial products. The amount is estimated more than one third of plastic product for industrial use. We designed special multi-functional urethane acrylate which shows elastic character suitable for rubber like resins. TSR 1920 is consisted of the urethane acrylates with acrylate monomers. TSR 1920B containing black additives is also presented for the customer who wants rubber like black appearance. Hardened TSR-1920s are soft and flexible having clear or black color with hardness of about 70 in shore A scale, useful for rubber prototype model with complex shape. The automotive and electric appliance researchers have very much attention for the TSR-1920s in making prototypes of inner parts.

4. Super engineering plastic resin TSR-1970X
The newest resin, TSR-1970X is designed for the material which shows the properties of super engineering plastics. Specially designed urethane acrylates and fillers are used for the resin. The filled resin will be important when it is used for making special parts needed for super engineering plastics. Thermal expansion coefficient of linear index is very small equal to filled superengineering plastics. Tensile and flexual modulus show quite large and equal level to the steel.

5. Optical and physical properties of TSR-920, 1920 (B) and 1970X
Optical and physical properties of TSR-920, 1920 and TSR-1970X are shown in Table I. The critical exposure (Ec) of them are small, showing typical urethane acrylate photo-resin. E10 is about 40~50 mJ/cm2. Viscosity of TSR-1970X is quite high, almost slurry. Mechanical properties of each TSR resin are quite interesting. They have characteristic profiles in each properties.

Table I. Optical and physical properties of TSR-920, 1920 (B) and 1970X

Resins

Properties

TSR-920

TSR1920
(1920B)

TSR-1970X*

ABS Resin

AMODEL**

Base resin

Urethane
acrylate

Urethane
acrylate

Urethane
acrylate

-

-

Viscosity(cps)
Density

1,700
1.13

500
1.15

56,000
2.0

Ec(mJ/cm2)
Dp (mils)
E10(mJ/cm2)

13.3
9.2
39.3

15.4 (14.8)
16.4 (8.3)
28.4 (49.5)

2.7
3.5
48.2






Cured


Tensile strength (kg/mm2)
Elongation (%)
Tensile modulus (kg/mm2)
Flexual strength (kg/mm2)
Flexual modulus (kg/mm2)
Hardness(Rockwell)
Hardness(Shore)
HDT (°C)
Volume shrinkage (%)
Coefficeit of linear thermal expansion (cm/cm/°C)

7.5
4
390
12
390
-
D 86
150
6.4



0.8
100
1.0
-
-
-
A ~70
-
5.0



12.3
1.7
2200
17.6
2710
-
-
>300
-

1.2X10-5

4-6
15-60
160-290
5-10
200-270
R90-R114

77-80
-



21.1
1.7
2040
29.5
1900


250
-

1.1/3.8X10-5

Appearance

Clear
High HDT

Clear
(Black)
Soft/rubber like

Grey opaque/
High HDT

Usage

Special model
Mechanical parts

rubber model

Special model
*) Under field testing, **) Super engineering plastic (TEIJIN AMOCO Co. Ltd.)

6. Example models
Typical prototype models by TSR-920 and TSR-1920B are shown in Fig. 1 and Fig. 2.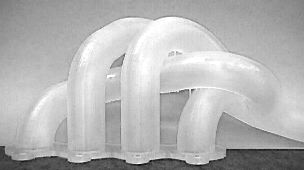 Fig. 1 TSR-920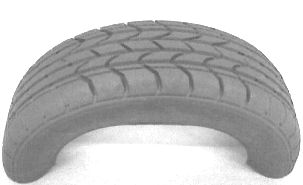 Fig. 2 TSR-1920B

Summary
New liquid photo resins, TSR-920, 1920(B) and 1970X, for rapid prototyping by Ar UV Laser were developed. Hardened TSR-920 shows high HDT with high performance having clear color. This is very useful not only for verification model but also for mechanical parts. Hardened TSR-1920(B) is soft and flexible having clear or black color, useful for rubber model with complex shape. TSR-1970X shows high performance very close to super engineering plastics.

Reference
1) Technical Bulletin, " SOLIFORM 500B", Teijin Seiki Co., Ltd.,1997.5
2) Y. Tamura and T. Hagiwara, Optronics, No.4, 119 (1996)


This paper was presented at RadTech97 Yokohama.